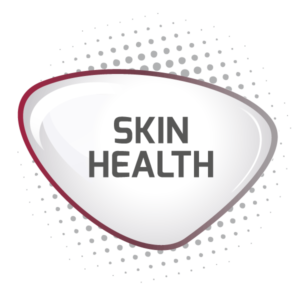 Skin health
---
Promising results for imperfect skin

 
There is a strong connexion between gut health and skin health: an unbalanced microflora can lead to a leaky gut, thus setting up a pro-inflammatory environment, resulting in inflammation, oxidative stress burden, sebum excess or atopic lesions. Therefore, S. boulardii shows promising results for imperfect skin such as acne:
1. Through its mechanisms of action involved in the skin-gut axis

Luminal effect: antimicrobial and neutralizing activities.
Trophic action: gut barrier integrity.


Immunity modulation: immune signalling pathways modulation.
2. Through its antiacne effects (for other markeitng use than food/dietary supplement)

[Weber, 1989] – Acne healed or considerably improved with S. boulardii vs. control (80% vs. 26% control, p<0.01).

[Stuttgen, 1991] – Number of papules decreased by over 50% with both S. boulardii treatments.
DID YOU KNOW?
80% of preteens and teens report skin imperfections.
40% of adults are diagnosed with acne (adult acne).
In online customer reviews, acne is the second health benefit claimed on probiotic products achieving the highest percentage of growth, with an increase of 3,700% (Dec. 2017 – Jan. 2020). (1)
Reference: (1) – https://insights.lumina-intelligence.com/Product-data/Global-Probiotics-2020-edition-NOW-LIVE